James Spader Brought Plenty Of His Own Ideas To His Blacklist Character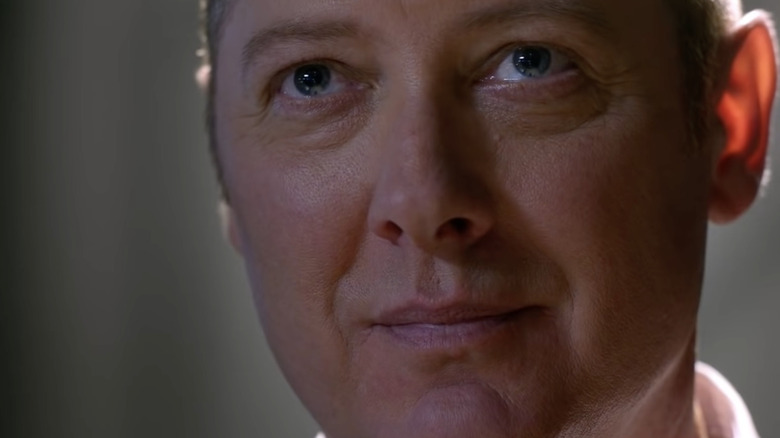 NBC
After nine seasons, the interwoven and mysterious plot of NBC's "The Blacklist" continues to thicken. Following in the footsteps of shows like "The X-Files" or "Twin Peaks," "The Blacklist" offers far more questions than answers. Frequently, it leads viewers down a garden path filled with red herrings. One such road involves the ever-mysterious identity of Red (James Spader).
For years, viewers suspected that Red was Liz Keen's (Megan Boone) father, which would explain his preoccupation with the young FBI agent. However, that fan theory was blown to pieces as the series progressed. Since then, Red said he is the KGB agent Ilya Koslov. But that was also a lie. Fans still don't know who he is or what Red's endgame is, but they're desperate to find out.
The mastermind's identity is the biggest mystery of "The Blacklist." But James Spader helped craft an enigma in a Borsalino fedora and Italian leather shoes playing his cards close to his chest.
Spader's ideas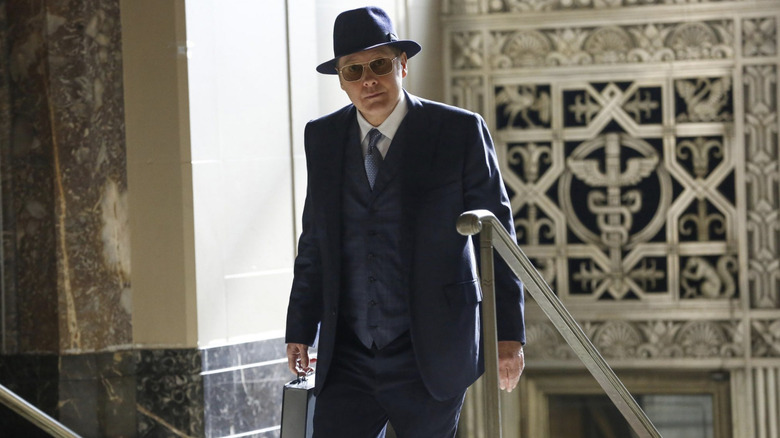 NBC
With 4 decades of show business under his belt, Spader knows a thing or two about creating a character. According to The Oklahoman, the veteran actor made the decision to shave his head because it was the right choice for the role:
"I'd had my hair long for, I think, the last few projects that I'd done. And it just felt — it felt like the right thing for him, so I — it was an idea that I instigated, and I think it was the right choice. It just seemed to fit his lifestyle, and he's someone who has to move — travel lightly and move swiftly — and it seemed eminently practical for him."
Spader's understanding of Red's nomadic lifestyle affected more than his hairstyle. He collaborated closely with the costume department, offering ideas for the character's wardrobe like the now-famous fedora choice:
"He has been on the move for a couple of decades now, if not longer. And, he travels lightly but he has to wear clothing that's practical. He has to be someone who's dressed to go straight from the jungle to a banker's office and be able to be comfortable and appropriately dressed for both."
As anyone who has ever seen "Casablanca" will attest to, a Borsalino fedora is always appropriate and never goes out of style.
Who is Red?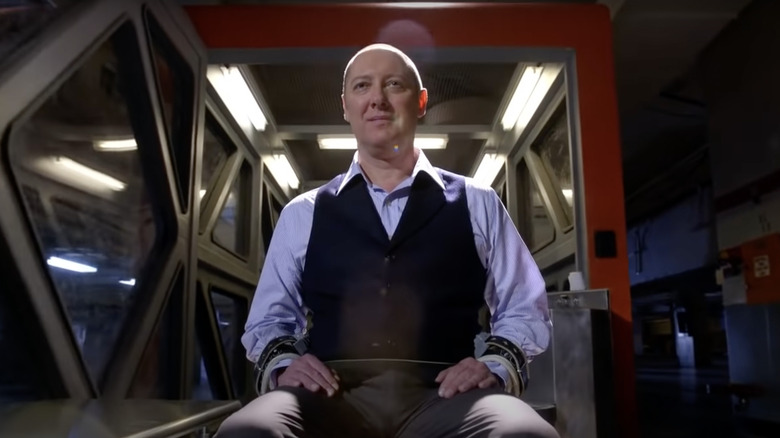 NBC
As Spader has previously said in an "Avengers: Age of Ultron" featurette, Red needs a wardrobe that is practical and appropriate in any setting. But does his attire offer any more clues as to the mystery man's identity? The three-piece suits and Italian leather shoes hint at a man who enjoys the finer things in life. However, the series shows that Red is perfectly comfortable locked in a glass box or consorting with Warlords, so the two traits clash and cancel each other out. From the beginning, Reddington has been a mess of contradictions, and more of the same is expected in season 10 of "The Blacklist."
Red's wardrobe is an amalgamation of classic styles that run the gamut from anywhere and nowhere all at once. He's as comfortable in a cage as he is dining with fine china surrounded by classic opera. Over the years, Spader has learned to read the different aspects of the character:
"Sometimes you're working backwards and sometimes you're working forwards. And sometimes you have to look at something from both points — both perspectives to get a handle on something."
For now, there are only two concrete truths about Raymond Reddington: He is a liar with a snazzy fashion sense, and he has a long list of dangerous friends.